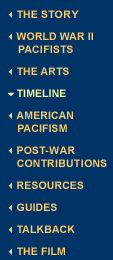 Pages 1 | 2


This timeline of events, starting in World War II, provides historical context and shows the role of conscientious objectors in the United States during the war and beyond. Many of these pioneering COs from "the good war" went on to become pivotal figures in the major civil rights and social justice movements of the 20th century.


July 1, 1940
Congress passes the Selective Training and Service Act of 1940 by one vote. It is the first peacetime draft in U.S history.
September 16, 1940
FDR signs the Selective Service and Training Act into law, requiring that all males 21-36 register for the draft. Conscientious objectors are exempted on the basis of training and belief. For the first time they can serve their country doing "work of national importance under civilian direction."
October 5, 1940
The National Service Board for Religious Conscientious Objectors is formed by the three peace churches, Quaker (Friends), Church of the Brethren and Mennonites, to handle relations between COs and the government.

October 16, 1940
Registration day for the first peacetime draft in U.S. history. Over 16 million American men sign up. The Union 8, eight Union Theology Seminary students who are exempt from the draft, refuse to register and are arrested. Among them are Dave Dellinger and George Houser.

Oct 30, 1940
Compulsory conscription begins.

Nov 14, 1940
Trial for Union 8 Seminary students jailed for refusing the draft. They serve a year and a day in Danbury prison.



Photo: Corbis Images
December 17, 1940
Civilian Public Service camps for conscientious objectors established. Government and peace churches jointly establish 151 Civilian Public Service Camps across the country to inter legal conscientious objectors.
May 15, 1941
First COs ordered to report to Civilian Public Service Camp at Patapsco, Maryland.

December 7, 1941
Pearl Harbor is bombed.


April 23,1941
First prison strike of the period. Sixteen COs, including the Union 8, refuse to eat or work after the warden stops them from acting in support of a nationwide student strike for peace.



Photo: U.S. Naval Historical Center
February 16, 1942
First CO walkout of CPS camp in Merom, Indiana.
March 5, 1942
First detached CPS service unit starts performing other tasks (as smoke jumpers, attendants in mental institutions, human guinea pigs, etc.) outside of the camps.


Pictured: William Anderson, starvation experiment volunteer
June 1942
Asa Watkins' CPS unit arrives at Eastern State Mental Hospital in Williamsburg, Virginia as the first group to volunteer as mental hospital attendants.



Byberry State Mental Hospital, Philadelphia
Photo: Charles Lord
June 14, 1943
Congress of Racial Equality (CORE) founded by James Farmer and George Houser.

June 1943
First smoke jumpers assigned to camp, Missoula, Montana.

December 23, 1943
Four-month work strike by 23 COs ends segregation at Danbury Federal Prison.

More